Kaiser Electro-Optical Proview 30 (Vista / PV30) mini teardown
Before I start boring you about these funky PV30 headsets, I'd just like to say I havn't given up on the pico powered HMD – as you'll see this is yet another possible route to fulfilling the pico HMD goal.
My current pico stumbling block is the cable extension, as described here.  I have asked for help from a great many companies, forums and individuals; but so far without success.
These units were first brought to my attention on MTBS3D forum via this post here. I did a mammoth amount of research on them, I literally performed several web searches.
There are quite a few of these units becoming available; primarily from liquidised and old medical stock, the easiest thing is to look on http://www.dotmed.com – at the time of writing there were 3 or 4 still knocking about.
The HMD's were designed by Kaiser Electro Optics for Vista Technology Systems and branded as Stereosite, in the late 90's.
Their forerunners were the white CardioView units you have doubtless seen.  In fact, the CardioView units still appear on the Rockwell Collins site. Rockwell Collins having bought out Kaiser sometime in the early naughties.
Here is a picture I borrowed from the old web cache of www.keo.com, I present it here using some creative licensing fair licence commons use thing that means they won't perform a cavity search for breach of copywrite. I hope.
Although initially dismissing them as a bum-deal, I had a change of heart after realising that the VR4 headset wasn't the ideal candidate for a pico retrofit; this is due to the way eyepieces are designed.  I decided that if I were to be able to pick one up cheap enough, at the very least I would have some fun.
Sure enough, after a little haggling, I was able to reduce an asking price of $1900 to $300 – for two units and went halves with PalmerTech from the MTBS3D forums.
Whilst waiting for it to arrive, I spotted another one being touted as a 'headlamp' for sale for $600 (I think) – which I managed to bag for a mere 50 bucks.  For that money I couldn't resist.
Shortly after Christmas, they arrived, like buses.
Very handsome they are too.  The headband is extremely comfortable, and the units are very well balanced.
OK, lets see what we have.
Rippiong off one of the rubber eye relief pads exposes the lower two screws to open up the eyepice enclosure:
There we have it, cheap plastic lenses which look onto a simple 45 degree mirror, above which is the LCD. The black knob is the inter pupil distance adjustment.
Compact LCD driver board with a scary amount of wires going into it, too many wires and enough electronics for it to be an RGB controller PCB. Could it be that actual video signal boards are off the head set ?  Yikes!
Phew!  At the rear of the headset is a lovely shaped bespoke video controller board.  A nice amount of wires.  Left and right you can see the ribbon connectors heading off to the eyepiece LCD's.  The entire board looks to be two discreet controllers, even audio and mic are mirrored.
A close up of the wires:
The rear of the board doesn't give anything away as to it's origin, or crucially, the pin-outs. Grrr.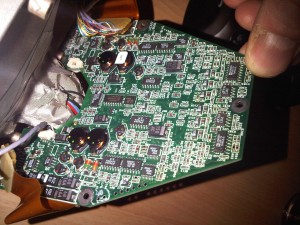 OK, so we have about the right amount of wires going into the thing. A great looking board, which strikes me as being a video controller, meaning it will hopefully accept a nice simple VGA connection as per the specs.
The cable connector is obviously bespoke and nothing of the pin-outs can be gleaned from it.
Damn!  I am realising this is going to be hard. Again. Double Damn!
I ripped off the end and created a basic breakout board.  The soldering went completely awry. The cable arrangement is absolutely mad!
I was happy to see nice thick Red Green and Blue cables and some nice thick Black and Silver Cables – shouting out to me RGB + Sync!  Alas, this was not to be.  The thick cables have baby cables inside, along side the core.  A couple of the bastards have two baby cables inside of them!
I have managed to identify a fleeting amount of the cables, but have only spent a fleeting amount of time … so far.
Somewhere in this mess is, I think, RGB, V sync, H Sync X 2 – 10 cables. There will also be left and right audio.  And, crucially…. Power.  What power, though?  3v, 5v or 12v ? or a combination.  If I power up the wrong cable, I will likely pop something.
Look here:
As well as emailing about half a dozen resellers of KEO products I have also emailed Rockwell Collins themselves at least a dozen times (going back about 2 months) to see if they have any technical PDF's or similar.  Sadly they cannot identify the product to give me any help.  Despite have photos of it on their website, this units model number and serial number and many of the photos above!
I did however, manage to talk to a chap from their current Optronics division in Carlsbad, who was very friendly and helpful.  However, he said that these units are no longer 'repairable' and they do not have any maintenance documentation.  Which is a bit of a blow.
If anybody know a trick or two to help me in identifying these pins… please do let me know 🙂
I only have 1 or 2 avenues left before I start a hit n hope approach… but, if nothing else it'll be fun.
*edit*
Here is a close-up of the ribbon connector, here you can make out the white cable, which connects to the left side of the ribbon connector on the PCB and the black cable which connects to the opposite end.  Notice how each of those two wires seems to encompass a bunch of ribbon connectors.
And here is the exposed side of the board, into which the ribbon connects – this is a big picture – 2400×2224, weighing in at 1.6MB
Here is a higher resolution picture of the back of the board: